Ep. 001 My Personal Journey to Using Light Therapeutics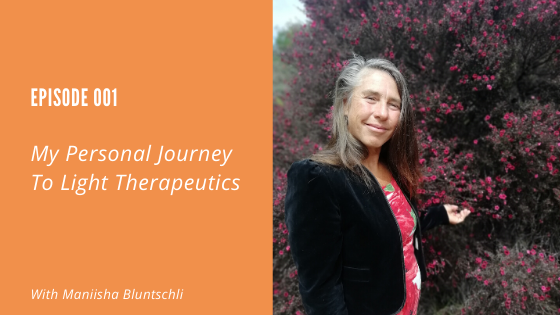 My Personal Journey To Using Light Therapeutics
As host of the newly formed Limbic Light podcast, I thought it apt to introduce myself. So, my name is Maniisha Bluntschli. I have a passion for energy, light, colour and vibrational medicine. I have seen so many wonderful results using this type of therapy, I felt a calling to share it with the world, including you. So this is how this podcast was born.
Join me as I explain how I came to be entwined with, exploring this fascinating area of science and medicine.
Key Notes
Maniisha's early years exploring the metaphysical.
Maniisha's training and education.
Having a partner with PTSD.
Struggling with depression after separation.
My first International Light Association conference in Austria.
Being introduced to monochrome therapy.
Conducting research studies with monocrom dome therapy for individuals with mood disorders.
Creating Australia's own light association, the Australasian Light Association.
More studies using photobiomodulation.
The need for natural, safe solutions in mental health issues.
Educating how to use light in our environment wisely.
Our bodies are more than chemistry. They are also quantum fields of energy.
Intention to educate via podcasts and online courses.
Publishing every Thursday.
Listen To Podcast
Links & Resources
Website : www.maniisha.com
Website : www.light-acupuncture.com
Receive News
Yes, please keep me informed of new news, podcasts, developments in the field of light and energy therapies.